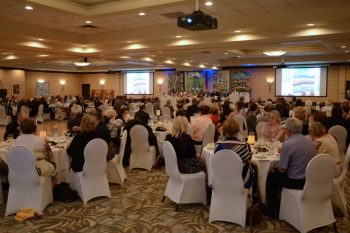 Every year Osvita organizes a Testimonial Banquet. The event annually honours prominent Ukrainian Canadians who have made a significant contribution to their community. This person must meet the criteria to be selected for this honour.
The guidelines are as follows:
Enhanced or promoted Ukrainian language, education, or culture.
Outstanding service in the Ukrainian Community.
Manitoban of Ukrainian descent.
Promotion of personal Ukrainian identity.
Upstanding citizen of the community.
If you know of somebody that meets the guidelines for being honoured by the Osvita Foundation Inc. Annual Tesimonial Banquet Dinner, please contacts us by clicking on the following link, Honouree Nominations, and include the name of the person in the body as well as some reasons why you believe that they should be honoured by the Osvita Foundation.
We would like to thank you in advance for submitting your choice for a Honouree.
We would like to thank everybody who has generously donated to the Osvita Foundation Inc. The Donor List is available to all by clicking on the link below. It is a Spread Sheet with one sheet per category of donors.
The categories break down as follows:
Donor: $50.00 – $99.00
Supporter: 100.00 – $249.00
Sustaining Donor: $250.00 – $499.00
Contributor: $500.00 – $999.00
Benefactor: $1,000.00 – $2,499.00
Charter: $2,500.00 – $4,999.00
Patron: $5,000.00 +
Click here for the 33rd Annual Osvita Foundation Testimonial Dinner Donor List (2016) Donor List
Download your ticket order form today! Limited seating available.
| | |
| --- | --- |
| 1982 | Dr. Louis C Melosky |
| 1983 | Mr. Justice J. R. Solomon |
| 1984 | The Late Dr. Isydore Hlynka |
| | The Honourable Wilson D. Parasiuk |
| 1985 | Mark G. Smerchanski |
| 1986 | The Honourable Benjamin Hewak |
| 1987 | Olga Fuga |
| 1988 | His Excellency the Most Reverend Archbishop Maxime Hermaniuk |
| | His Beatitude Metropolitan Wasyly Fedak |
| 1989 | Walter P. Klymkiw |
| 1990 | Dr. Peter A. Kondra |
| 1991 | Cecil W. Semchyshyn |
| 1992 | Sister Josaphata Michaelina Hordashevska |
| 1993 | Terry J. Prychitko |
| 1994 | Dr. Michael Ewanchuk |
| 1995 | Right Reverend Mitrate Semen Izyk |
| 1996 | John J. Nowosad |
| 1997 | Jaroslaw Barwinsky, M.D., FRCS |
| 1998 | Taras Yuri Snihurowycz |
| 1999 | Right Honourable Edward Schreyer |
| 2000 | Vicky Adams |
| | Nadya Kostyshyn |
| 2001 | Dr. Jaroslaw Rozumnyj |
| 2002 | 20th Anniversary Recognition Reception |
2003
Dr. Leo Mol
2004

His Honour The Honourable            Peter M. Liba,  C.M., O.M. Lieutenant Governor of Manitoba

2005
Dr. Mary Pankiw
2006
Metropolitan John Stinka
Metropolitan Lawrence Huculak
2008
Dr. Borislaw Bilash
2009

Leo Ledohowski

B.A, Comm., M.B.A., C.M.A., C.H.A., F.C.M.A

2010
Lesia Szwaluk
2011

Ukrainian Youth Association of Canada (CYM),

Winnipeg Branch PLAST Ukrainian Youth Association of Manitoba

2012
Bill Solomon
2013
Orysia Tracz
2014
Oseredok – Ukrainian Cultural and Educational Centre
2015
O'Koshetz Choir
2016
Dr. Oleh Gerus
2017
Dr. Myroslav Shkandrij
2018

Irka Balan

Valentina Noseworthy

2019
 40 years of English-Ukrainian Bilingual Program Teachers in Manitoba
Manitoba Parents for Ukrainian Education
200-1215 Henderson Hwy,
Winnipeg, MB R2G 1L8
P: (204) 942-5405
F: (204) 942-5412
E: mpueinc@mpue.ca
Follow us: