MPUE Organized Trips and Events
MPUE Organized Trips and Events
Manitoba Parents for Ukrainian Education believes it is important that students in the EUBP have an opportunity to understand there is a larger world outside of the walls of their schools and experience first hand being part of a larger community. To support this, MPUE organizes inter-school EUBP field trips at each grade level, beginning in grade 4. Students annually have a chance to meet EUBP peers from across the Province, contributing to the enhancement of the Program.
MPUE Inter-School Trips
Grade 4 – Visit to the Leo Mol Sculpture Gardens and Multi-Cultural Experience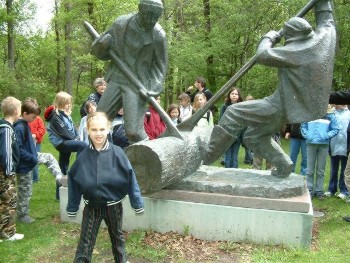 Designed specifically for grade 4 English-Ukrainian Bilingual students, this event provides the students with an opportunity to understand and appreciate the works of Ukrainian Artist, Leo Mol. The day includes a visit to a different cultural centre each year, where the hosts share their dance, history, art, food and other unique aspects of their culture.
---
Grade 5 Legislature Visit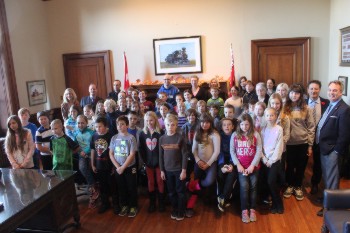 This fieldtrip coincides with the grade 5 curriculum dealing with Manitoba's history. The students will spend the day at the Legislature, learn about our Provincial Government building, explore the statues on the grounds, and meet some Manitoba leaders of Ukrainian descent.
---
Grade 6 Language and Culture Camp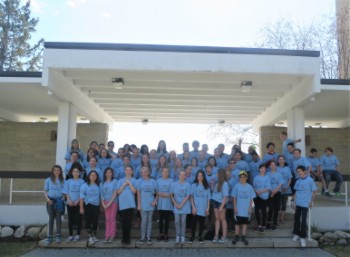 English Ukrainian Bilingual students, from around the province, spend 3 days learning and experiencing Ukrainian language, culture and experience presentations from different faculties at the University of Manitoba, opening their eyes to what future opportunities are out there. The students also get to grow their friendships with their EUBP peers from across the Province while staying together St. Andrew's College.
---
Grade 7 – Human Rights, Holodomor and Indigenous Experience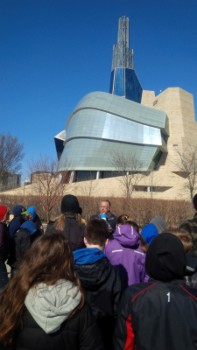 Grade 7 students will have the opportunity to visit the Canadian Museum for Human Rights to learn about the Holodomor and explore Indigenous history at the Forks.  MPUE also strives to coordinate a visit for EUBP students when the Holodomor National Awareness Tour – Mobile Classroom visits Manitoba.
---
Grade 8 – Venture to Vegreville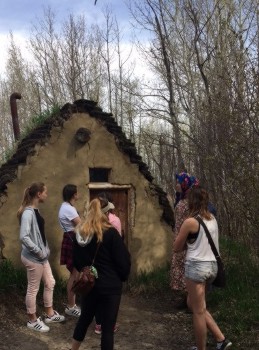 Grade 8 English-Ukrainian Bilingual students, have the opportunity to take a 4-day trip to Saskatchewan and Alberta to visit Ukrainian-Canadian attractions and meet with fellow Manitoba EUBP students while learning about the culture and celebrating their time in the program.
MPUE Events
Graduation & Family Celebration
English-Ukrainian Bilingual students and their families, gather to celebrate together as each school year ends. MPUE provides a special gift to the students who are graduating from the EUBP program offered at their schools. It is yet another opportunity to build community with EUBP students and families from across the Province.
---
Winnipeg Santa Claus Parade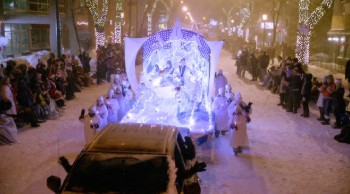 English-Ukrainian Bilingual students and their families have an opportunity to participate by walking in the parade or riding on the MPUE Snow Queen Float in the annual Winnipeg Santa Claus Parade. The event is televised locally, and did you know our beloved Snow Queen Float was part of a movie shot in Winnipeg?
School-Based EUBP Events
EUBP Parent Organization associated with each of the Program Schools together with EUBP teachers go the extra mile to support enhanced cultural celebrations and events within individual school communities. Student enrolled in the EUBP have special celebrations to look forward to that include:
Christmas and Easter Celebrations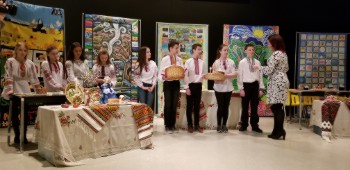 The various schools celebrate these special days with cultural events and hands-on activities such as making braided bread or designing pysanky, allowing students to learn about Ukrainian traditions.
---
Zabavas and Malankas
English Ukrainian Bilingual students and their families plan and join the fun at traditional Zabavas and Malanka celebrations.
Manitoba Parents for Ukrainian Education
200-1215 Henderson Hwy,
Winnipeg, MB R2G 1L8
P: (204) 942-5405
F: (204) 942-5412
E: mpueinc@mpue.ca
Follow us: