English-Ukrainian Bilingual Program Information
English-Ukrainian Bilingual Program Information
Інформація про англо-українську двомовну програму
Інформація про англо-українську двомовну програму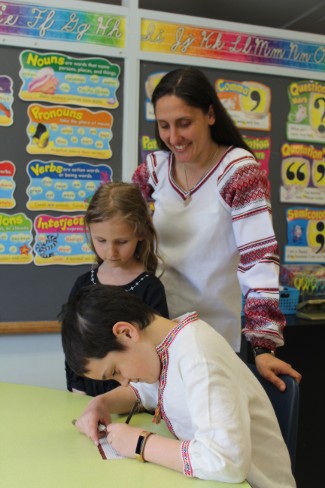 Ukrainian heritage
 is alive and well in our province. From the lively festivals hosted throughout the province, to our love of perogies and the many dance troupes that perform across the province, there's no question that Ukrainians celebrate their culture and community.
The English-Ukrainian Bilingual Program (EUBP) offers a balance of English and Ukrainian instruction, allowing each student to gain a rich understanding of the language, traditions and heritage. Taught in 12 Manitoba schools, the EUBP enables your child to learn the Manitoba Public School's curriculum in both English and Ukrainian, with the study of French added in Grade Four, in a naturally enriching environment.
The EUBP features:
Enriched Curriculum
Warm, Nurturing Classrooms
Safe and Fun Learning Environment
Inter-School Activities for all EUBP students across the Province.
Українська спадщина жива і квітуча в нашій провінції. Від жвавих фестивалів, нашої любові до вареників та багатьох танцювальних колективів, які виступають по всій провінції, не виникає сумніву, що українці шанують свою культуру та спільноту.
Англо-українська двомовна програма (EUBP) пропонує збалансоване навчання англійською та українською мовами, що дозволяє кожному студенту отримати багате розуміння мови, традицій та спадщини. Наявна у 12 школах Манітоби, EUBP дозволяє Вашій дитині вивчати програму Державної школи Манітоби у природньому для неї середовищі англійською та українською мовами, а вивчення французької мови додається у четвертому класі.
Особливості EUBP:
Збагачений навчальний план
Тепла атмосфера у класаx
Безпечне та веселе середовище для навчання
Міжшкільні заходи для всіх студентів EUBP по всій провінції